Increase Customer engagement via Salesforce Philanthropy Cloud
Harness the power of Salesforce Philanthropy Cloud to manage donations, volunteer time, and match gifts at the same place.
Contact us at Cloud Analogy to explore how your employees can effortlessly interact and collaborate seamlessly with causes, connect with nonprofits, measure social impact, host fundraisers, and track volunteer hours. Discover innovative ways on how to organise your company's social impact initiatives, from employee giving to grants management.
What Is Salesforce Philanthropy Cloud?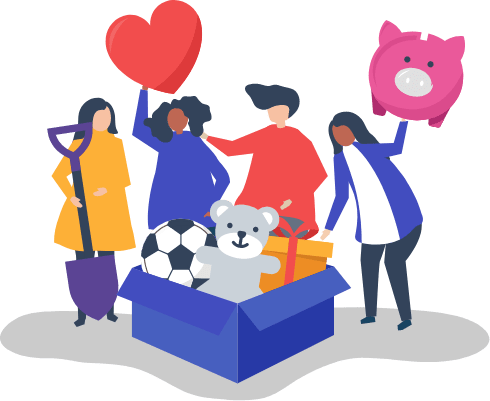 Salesforce Philanthropy Cloud is a game-changing technology platform that allows companies and their employees to connect with non-profit organisations on a large scale.
This technology platform connects, inspires, and empowers social change and function as a complete engagement solution with all the content, functions, and services that your company needs to find opportunities to engage in their communities across the world.
At Cloud Analogy, we offer customised and robust solutions in the context of Salesforce Philanthropy Cloud for businesses and Salesforce Philanthropy Cloud for Nonprofits.
Employee Volunteering
Enables your employees to plan, promote, and share voluntary activities on a strong, easy-to-use, and integrated platform. Improve your brand's reputation while giving back to the community, interacting with volunteers, and offering opportunities based on their skills, preferences, location, and activities on the platform. Allow them to share their experiences from events and the impact they can make on their communities while inspiring others to join their cause.
Corporate Grants Management
Managing corporate grants is about planning, attention to detail, and time management, regardless of which stage you are in. For grantmakers, effective grant management helps ensure their contributions are above scrutiny and their valuable dollars are spent well. For grant seekers, grant management is an important aspect of building and maintaining relationships with donors. To unlock your true potential with Salesforce Philanthropy Cloud, reach out to Cloud Analogy today!
Workplace Philanthropy
Your employees require an effective way to reconcile their personal and professional values, your organisation requires a great way to simplify and use corporate social responsibility programs, and nonprofits require good ways to build their volunteers and donors network. Our team of Salesforce Philanthropy Cloud experts can help you connect the dots for everyone. Organise, market, and operate your employee programs through a simple, intuitive and maintenance-free interface.
Engage donors, volunteers, and beneficiaries
Donors and volunteers are the backbones of every non-profit organisation. However, competition for these resources seems a bit intense. The right technology can help your nonprofit by increasing support and strengthening relationships by providing rich, engaging, and connected experiences. Contact Cloud Analogy to create a meaningful impact with Salesforce Philanthropy Cloud for Nonprofits and to drive effective, positive social and community change.
Extend Technologies To Nonprofits
Technological innovations like Artificial Intelligence, Internet of Things, big data and Cloud are making a huge impact in the commercial area. Meanwhile, non-profit organisations face many challenges related to resources, security threats, and rising expectations. Our customers can leverage modern technology to meet their critical and ever-evolving needs. Our teams can help you leverage Salesforce Philanthropy Cloud for Nonprofits to achieve your goals and make intelligent data-driven decisions to create a positive impact.
Overview of Salesforce Philanthropy Cloud Features
Philanthropy Cloud for Companies
Philanthropy Cloud for Nonprofits
How can Philanthropy Cloud Salesforce help you with your corporate social responsibility plan?
Optimise and take advantage of the Salesforce Philanthropy Cloud for business and Salesforce Philanthropic Cloud for nonprofit organisations today!
Let's together build and drive a culture of innovation. Reach out to Salesforce Philanthropy Cloud specialists at Cloud Analogy at +44-121-288-9424 or drop us an email at info@cloudanalogy.com. 
Cloud Analogy's teams of Salesforce Philanthropy Cloud experts will be happy to guide you on how to achieve your company goals and create a meaningful and measurable impact using the Salesforce ecosystem.